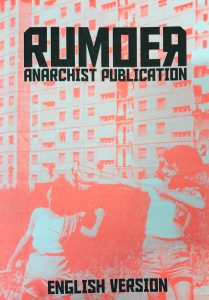 The second edition of the anarchist publication Rumoer is out! A publication which will hopefully provoke discussion, irritation, inspiration, agitation, and attack. Because we do not want a raise in wages, but the destruction of work. Because we do not want to shout 'boo!' but want to hear BOOM! We want a confrontation without compromise with the system that is destroying our lives and the planet.
In this issue some extra attention for the rampaging Covid-19 virus. But also just the ongoing anarchist interventions and other topics: an interview with a graffiti maker in Lebanon, the fight against Shell, post-gentrification and the use of the Signal app.
If you want to receive the new Rumoer, send an email to: rumoer (((A))) riseup /// net. Since most social centres are currently closed, we ask you to help spread the latest edition. Order some extra copies and bring it to your neighbours, isolated family, friends and comrades.
You can also download the new Rumoer or print it yourself. The link to the downloads can be found at rumoer.noblogs.org
Remember, the streets are empty, the possibilities are open. Keep 1.5 meters away, but always at least ten times as much from the police!
March 29, 2020
by actforfreedom
Comments Off on UPRISING IN THE IRANIAN PRISONS/شورش در زندان های ایران by Anarchists in Iran

On March 26, 2019 [yesterday], after the protests by hunger strike of the prisoners in some Iranian prisons, due to the poor prison conditions and the spread of the corona virus and even the deaths of several prisoners, the prisoners in some wards of Tabriz Central Prison, a city in the northwestern of Iran have rebelled.
According to the official reporting from the state news agencies, the cops forces have besieged areas all around and heard gunshotings.
The hypocritical and oppressive totaliter regime of Iran has attacked the defenseless prisoners with tear gas and direct gunfire and has also injured several of the prisoners.
به دنبال اعتراضات زندانیان از راه اعتصاب غذا بخاطر شرائط بد زندان و شیوع ویروس کورونا و مرگ چند زندانی در برخی از زندانهای شهرهای گوناگون، دیروز هفتم فروردین ماه ۱۳۹۹ تعدادی از زندانیان چند بند در شهر تبریز در شمال غربی ایران، دست به شورش زده اند
بر پایه ی گزارش رسمی خبرگزاریهای دولتی، این شورش با محاصره مناطق اطراف توسط نیروهای انتظامی و شنیدن صدای تیراندازی همراه بوده است
نیروهای سرکوبگر رژیم توتالیتر ایران با حملات وحشیانه بوسیله ی گاز اشک آور و تیر اندازی مستقیم به طرف
atthensindymedia       زندانیان بی دفاع، چندین تن از آنها را نیز زخمی کرده اند