Workspace of Elephant Editions
CLIK ON BOOK! PDF…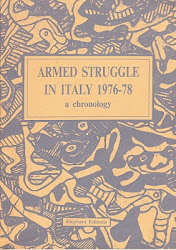 Bratach Dubh
Anarchist Pamphlet 4contents
INTRODUCTION TO THE SECOND EDITION
INTRODUCTION
PREFACE
OUR ROLE IN THE PRESENT CONFLICT
DIFFUSED URBAN GUERRILLA
PRISON REVOLTS
PRISONS, COURTS AND THE LEGAL HIERARCHY
EXPROPRIATION
VICTIMS OF REPRESSION
SWEAT LABOUR
POLITICIANS AND PARTY HEADQUARTERS
TRADES UNIONS
FACTORIES AND THE INDUSTRIAL HIERARCHY
STATE OFFICES
HEROIN PUSHERS
ATTACKS AGAINST THE POLICE
RESTRUCTURING REPRESSION
ANTI-INSTITUTIONAL MOVEMENT, REVOLUTIONARY VIOLENCE, ARMED STRUGGLE. SOME REFLECTIONS.
TOWARDS THE GENERALISATION OF ARMED STRUGGLE
ON THE PROBLEM OF ARMED STRUGGLE
FORWARD COMRADES!