[Translator's note: On November 4 a national celebration of the armed forces (murderers in uniform) is held every year in Italy]
Posted by Anarchici pistoiesi
Translation act for freedom now/B.pd
Solidarity to anarchist comrade Alessio Del Sordo, imprisoned following an attack against the yard-fortress of the  TAV in Valsusa that took place on July 3 2011.  The comrade has never submitted to any guard or jail. Solidarity to all priosners in revolt against their jailers. In the prison of Dogaia, as well as in all prisons, beatings, searches, punitive transfers, segregation to solitary confinement and suicides (like that of a 22-year-old boy just a few days ago) occur every day.
BUT THERE ARE THOSE WHO DO NOT SUBMIT: beating of bars, refusal to go back to the cells, noisy responses to the greetings of people in solidarity have recently shaken the prison of  Prato, and have demostrated that those who lock up are not all-powerful and that in prison hope can be rekindled.
SUNDAY NOVEMBER 4 from 2pm
Music and speeches open mic outside the prison walls
Let's support Alessio's struggle and the struggle of all prisoners
Poster reads:
There are those who turn on the other side in front of injustice in order not to compromise their life or just their tranquillity.
But there are also those who feel that an injustice made to another person is being made to themselves; there are those who are ready to risk their own freedom for others' freedom. Our unconditional support and solidarity go to them.
 DEMO OUTSIDE THE PRISON OF PRATO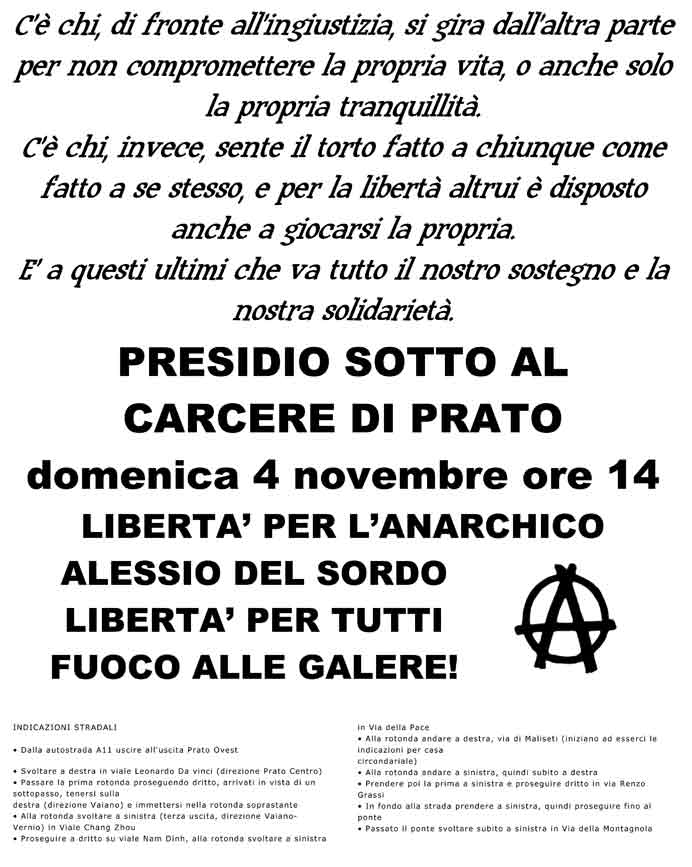 SUNDAY NOVEMBER 4 2pm
 FREEDOM FOR ANARCHIST ALESSIO DEL SORDO
FREEDOM FOR ALL
FIRE TO ALL PRISONS