Video from inside Villa Amalias during its attempted re-occupation
VILLA AMALLIAS – Today at 9.20 am, and following the reoccupation of Villa Amalias by dozens of comrades, the building was invaded by riot police and anti-terrorist police units without the presence of an attorney, to remove the comrades and evacuate the building. The 101 comrades, despite the difficult position in which they have been placed by the state, organised collectively and exited the occupation in formation, not loaded with weapons as many media parrots would imagine, but with their fists raised and their voices echoing: 'the right is with the insurgents and not with the ruffians and the  subservient'.
As Villa Amalias was being evacuated, the cops, after an order by DIMAR (centre-left party participating in the governmental coalition), proceeded to remove and arrest 40 comrades from the symbolic occupation that took place at the offices of DIMAR, in support to the reoccupation and evacuation of Villa Amalias.
The state now progresses even more clearly, for those who have not yet understood it, to the implementation of the doctrine of zero tolerance to anyone who fights and resists, anyone against the fait accompli imposed by those with power and money. To all from below, to all society. To all of us whose lives are more than just another number, just another stone to their fallacious social formation.
SOLIDARITY TO THE ARRESTED COMRADES
FROM VILLA AMALIAS & DIMAR
VILLA AMALIAS WILL REMAIN AN OCCUPATION
9/1/2013
Polytechnic School Meeting 3pm
Gathering outside the police headquarters 6 pm
—————————————
Atenas: Villa Amalias reokupada y desalojada otra vez; decenas de compas detenidxs
A eso de las 07.30 de la mañana de hoy, 9 enero de 2013, decenas de compas reokuparon el edificio en la esquina de las calles Acharnon y Heyden, conocido como okupa Villa Amalias, que había sido desalojada el 20 de diciembre de 2012.
Inmediatamente después de la reokupación del espacio, un fuerte contigente policial cercó toda el área, con la madera bombardeando con gases lacrimógenos a lxs compas que estaban dentro. Finalmente, el Estado envió al lugar unidades de las Fuerzas Especiales Represivas Antiterroristas (EKAM), quienes irrumpieron en la okupa y junto a los escuadrones de MAT detuvieron a 101 compas, trasladándolxs en lecheras a la jefatura de policía (GADA) en la avenida Alexandras.
Entretanto, una improvisada marcha de solidarixs partió de la plaza Victoria (cerca de la localización de Villa Amalias) en dirección a la escuela Politécnica, Exarchia.
Casi al mismo tiempo que ocurría lo arriba mencionado, otro grupo de compasocupaba las oficinas del partido de Izquierda Democrática (DIMAR, que participa en el gobierno tripartito actual), ubicadas en el districto de Metaxourgio, centro de Atenas, en solidaridad con la okupa Villa Amalias, los espacios autogestionados y la infraestructura antagónica que se han visto atacados últimamente (i, ii). Al igual que antes, la madera no tardó en aparecer y los escuadrones de antidisturbios detuvieron a unxs 40 compas solidarixs, trasladándolxs también a la jefatura de policía.
Tanto de Villa Amalias como de DIMAR, lxs compas detenidxs salieron coreando consignas con los puños alzados.
Mientras se escriben estas líneas (11.40am), gente solidaria se ha concentrado por fuera de la jefatura de policía, mientras unxs 400 compas decidieron, tras una asamblea de urgencia, mantener abierta la escuela Politécnica, donde se estaba llevando a cabo dicha asamblea. Además, se convocó una concentración solidaria en la plaza de Sintagma para el mediodía y otra por fuera de la jefatura de la policía a las 18:00 de hoy. El día será largo.
SOLIDARIDAD CON TODXS LXS COMPAS DETENIDXS
¡FUEGO Y RABIA!
Seguirán actualizaciones.
———————————–
Villa Amalias re-squatted and re-evicted – biggest number of anarchists detained in 15 years
UPDATE, 11.45 am. If the numbers of detentions are confirmed (101 in Villa Amalias and 40 at the Democratic Left) this would mean today's police operation will have seen the biggest number of anarchists detained at least since the 1995 Polytechnic riots.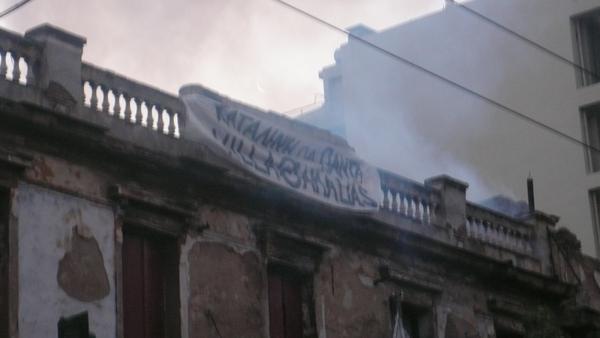 A banner reading 'Squat Forever – Villa Amalias' was placed on the roof
At approximately 07:30 on January 9, dozens of people re-squatted Villa Amalias this morning, hanging a banner writing: "Squat for Ever – Villa Amalias". Almost immediately, riot police that encircled the building threw tear gas inside. At approximately 09:20, the police's special forces (EKAM) smashed the building's windows and raided it anew, detaining 101 people who was inside.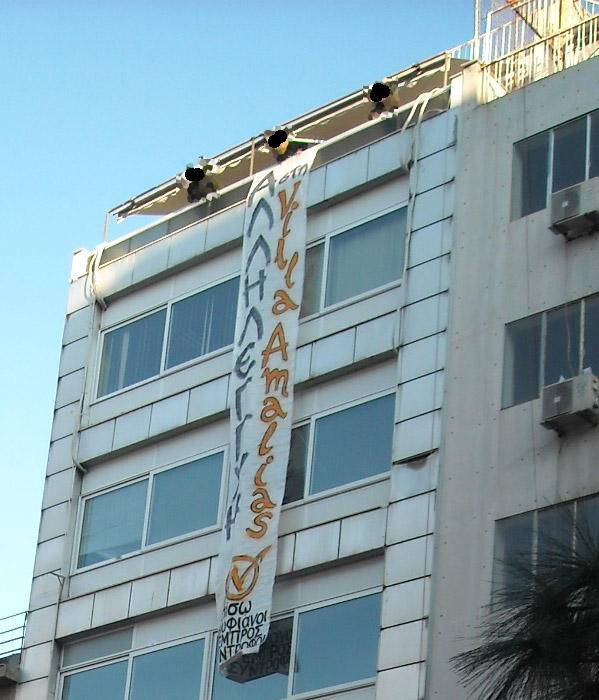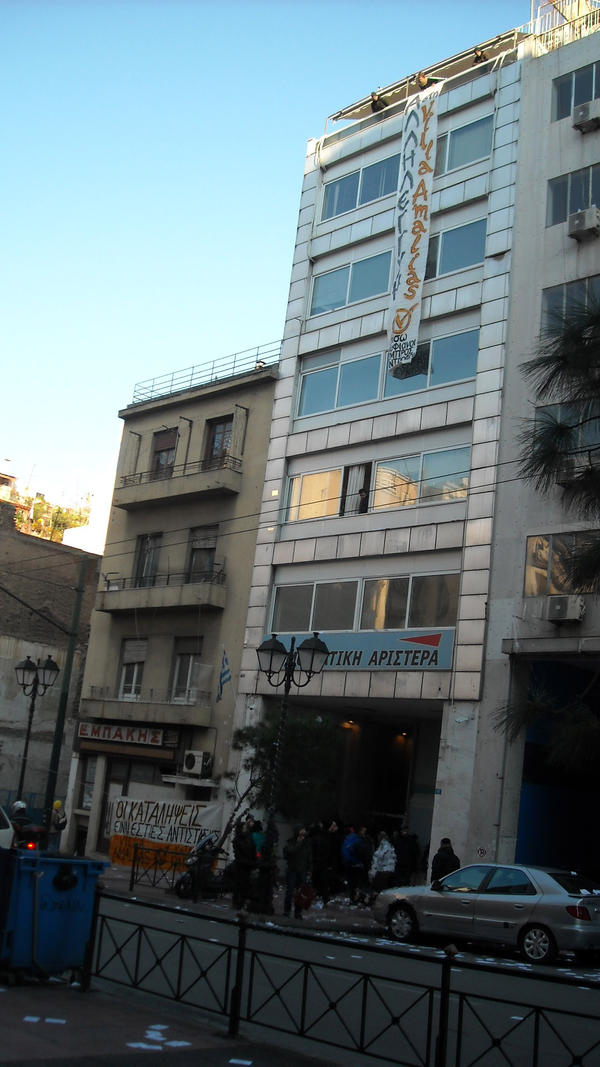 Meanwhile – at approximately the same time – around 40 anarchists in solidarity occupied the HQ of DIMAR (Democratic Left Party), which participates in the governmental coalition. Police raided this building as well, detaining the occupiers.
Heavy anti-riot police forces that encircled the building threw repeatedly tear gas inside. At approximately 9.20am, anti-riot squadrons (MAT, YMET) along with the EKAM special suppressive antiterrorist unit were deployed in the area, smashed the building's windows and raided it anew, detaining 101 people who were inside.
Meanwhile, nearly 200 comrades gathered at Victoria Square, near Villa Amalias, in solidarity with the squatters.
At the same time, around 40 solidarians occupied the Metaxourgeio offices of the DIMAR party ('Democratic Left', which participates in the tripartite government), also with the aim of calling for the January 12th demo in downtown Athens in solidarity with squats and self-organized spaces that have come under attack across Greece. However, the police raided the party's offices as well, detaining the occupiers.
While detained by cops, comrades from both Villa Amalias re-occupation attempt and DIMAR offices' symbolic occupation were reportedly taken with raised fists and loud chants.
An assembly in the Athens Polytechnic School was called for 15.00pm. Also, a solidarity gathering outside the police headquarters on Alexandras Avenue was announced for 18.00pm.
Following the mass detentions of the morning, nearly 150 solidarians held a spontaneous protest rally outside the Ministry of Economy and Finance at Syntagma, where the police attacked the gathering and chased people away.
According to initial reports, all of the kidnapped from Villa Amalias are threatened with charges, while the detainees from DIMAR offices' occupation will likely be released from the police headquarters.