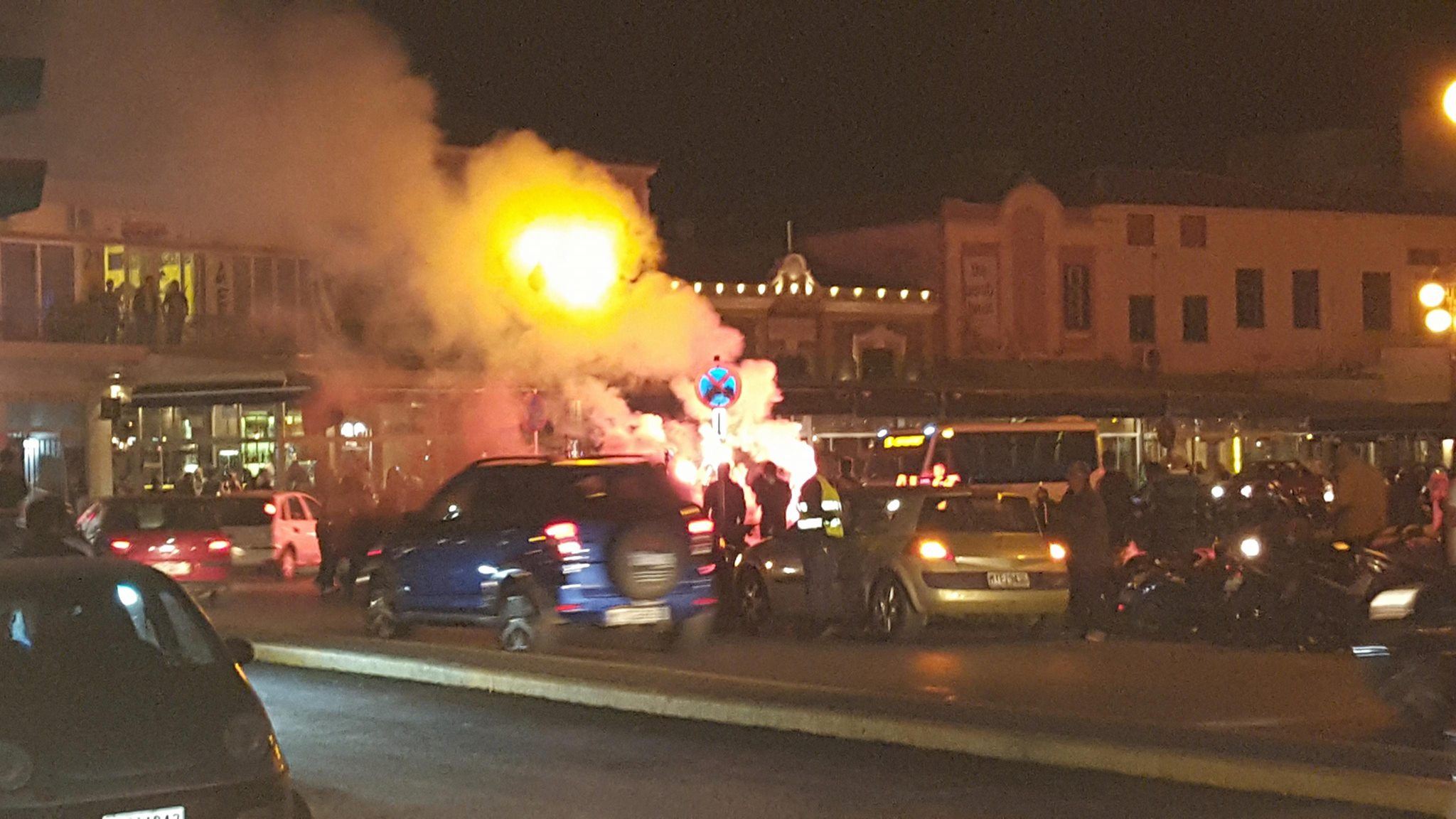 Greece: Last night between 250 and 300 fascists attacked protesting refugees on Sappho square in Mytilini on Lesvos island. The attacks started around 08:00pm and lasted until 03:00am this morning. At 05:30am riot cops cleared Sappho square and arrested those who were attackes, not the attackers: 120 refugees  and 2 activists of the refugee solidarity movement.
The attacks started after fascists who protested on behalf of two Greek soldiers currently detained in Turkey, broke through a police barrier and threw stones, bottles and flares at the protesting refugees. After calls on social media and far right websites the fascist mob started to get bigger. The refugees were protesting peacefully for the freedom of movement for several days on Sappho square and remained peaceful during last nights fascist attacks.
Eyewitnesses said that some of the attackers chanted "Burn them alive!" Greek state-run media reported that "far-right militants" targeted women and children, while solidarity activists and refugees created a human chain to protect the victims. Refugees were holding wet opened blankets over their heads to avoid injuries by the hurled objects.

Anti-authoritarians and solidarity activists came to the square to support the refugees. Among the attackers were known members of the fascist  Golden Dawn party and the Patriotic Movement of Lesvos. Other citizens joined the fascist mob.
Around 01:00am this morning, the clashes had spread to the waterfront and Town Hall of Mytilini, as the fascists set fire to garbage bins and attacked cops with makeshift projectiles.
Although riot cops were also attacked by the fascist mob, they didn't detain any of the fascists, so far, although Mytilini is a rather small community, where everyone knows everyone.

About 35 refugees and activists of the solidarity movement were injured. many of them were treated in hospital but could leave the hospital again after treatment.
At 05:30am riot cops cleared Sappho square and detained 120 refugees and according to unconfirmed reports also 2 activists of the refugee solidarity movement. Among the detained refugees were children. Some Greek media outlets reported fake news, saying the refugees were brought to the Moria refugee camp. An activist of the Cars of Hope collective told Enough is Enough that he was at the police station and that the refugees were definitely detained and brought to the police station. A lawyer told him the refugees will be released soon.
Its not just appalling that the victims of the fascist attacks were detained, its a clear sign how refugees are treated in Europe. French parliament approved a new law yesterday that allows the French state to detain refugees for one year for illegal entry of the French territory illegally, a territory where its almost impossible for refugees to enter legally. Self-organized anti-fascist self-defence is becoming more importand and necessary day by day.