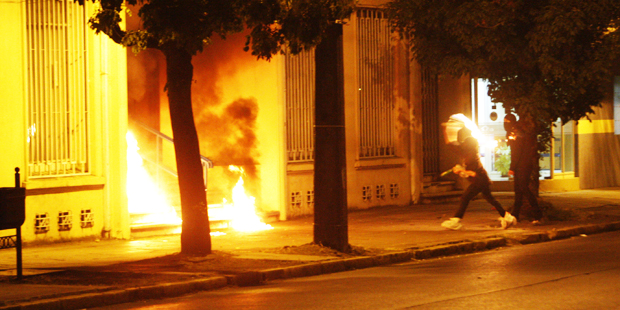 from culmine, translated by war on society:
At about 9:30 pm, in the context of the meeting of CONFECH [Student Confederation of Chile] in Chillán, encapuchxs ['hooded ones'] blockaded with barricades two of the most central streets of the city, as well as dropping banners in solidarity with the political prisoners Gonzalo Zapata, Francisco Moreno and Cristóbal Franke in addition to a banner against capitalist Education. Molotov cocktails were thrown at the institutions of the State, banks and the larcenous and environmentally destructive business "CGE," there were also clashes with the repressive forces of the State who, it's worth mentioning, fired and threatened with their weapons those in the crowd supporting the encapuchadxs, as well as encouraging the lawyers who were in the plaza to confront the encapuchadxs, who also threw anarchist pamphlets to the crowd that observed the barricades, with the following text:
By means of autonomous, anonymous and subversive organization, we declare war on the dominant bourgeois system; on their State based on inequality and the capitalist dictatorship which keeps us poor, exploited and indebted. But through actions such as these, we defend ourselves from their neoliberal violence and their market education, separate from yellow false representatives and partyists who only seek to make political runs, as with the CONFECH spokespersons managed by the party also at the service of the bourgeoisie–P"C". We are the sons and daughters of the workers who didn't think twice in defending themselves against any form of oppression and authority. We are the insubordinate, we are in the streets, and we are bourgeoisie's nightmare.
FREE AND POPULAR EDUCATION!!
NEITHER THEIR COPS NOR THEIR PRISONS WILL DETER THE STRUGGLE IN THE STREET!!
FREEDOM FOR ALL POLITICAL PRISONERS!!
DEATH TO THE STATE AND LONG LIVE ANARCHY!!
Moreover it's worth mentioning that the yellow mouthpiece party leaders of CONFECH were escorted out in the face of the rage of the bases upon which they have for months sold out the movement, protecting the interests of their parties also at the service of the bourgeoisie.
A nameless who observed everything and didn't tell anyone anything.