Yesterday 3rd May about 30 individuals and people of various collectives gathered near the train station of Donostia (Basque Country) to show their solidarity with Val Susa and with Luca. But above all we wanted to show solidarity with the actions and mobilizations that are being carried out all over Italy. May revolt go beyond the borders.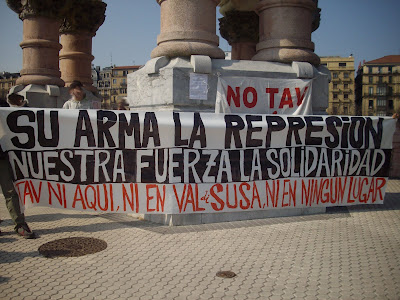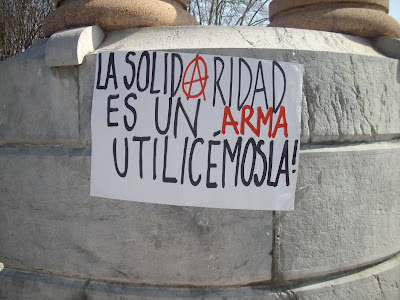 Let's stop the TAV.
Let's destroy this society of dominion.
Solidarity with the arrested on 26th January. Freedom for all!
            Strength to Luca!
———————————————-
Ayer 3 de marzo nos reunimos unas 30 individualidades y miembros de distintos colectivos frente a la estación de Renfe en Donostia, para una concentración en solidaridad con Val di Susa y con Luca; y aún más para sentirnos cercanos a la oleada de acciones y movilizaciones que están ocurriendo en toda Italia, para que la revuelta se extienda más allá de cualquier frontera.
Para parar el TAV.
Para tirar abajo esta sociedad de dominación.
Solidaridad con los detenidos del 26/1. ¡Libertad!
¡Animo Luca!
Translated by Bpd/act for freedom now