from liberaciontotal, translated by waronsociety: Communique:
"Solidarity is a permanent attack against the system and against the society, a practice in which there is no room for words like frame-up, innocent, guilty. Because our obligation as revolutionaries is to be considered by this system always as guilty, it is to be always dangerous and always proud of the decisions that we take. We are not persecuted for our ideas, but rather because it seemed poor to us not to turn them into deeds." – Gerasimos Tsakalos, member of the imprisoned cell of the CCF.
In the passage of these months we have sent out our greetings and solidarity with the comrades of struggle in the world.
In September, in response to the call for solidarity with the comrade Tortuga
– Paintings / Graffiti.
– Flyers.
– Incendiary device.
In October, paintings / graffiti on the facade of a church.
In December, in Solidarity with the imprisoned comrades of the R.O. Conspiracy of Cells of Fire.
– Paintings / Graffiti.
In January, Arson of advertisement.
In February:
– the 19th, explosive device left in a BBVA branch in the beginning of the International Days for Freddy, Marcelo and Juan.
– the 27th, continuing with the call for International Solidarity, banners hung on two bridges. Paintings / graffiti in the area.
"The raising of hoods in order to carry out these actions is the means for realizing our demonstration of solidarity, it is the rebellion against everything that has assumed subordination; it is the rejection of this imposed order. It is the faceless expression of our rebellion against the conditions of violence (economic, social and political) and, on the other hand, it is our demonstration of unconditional love for Freedom, because Freedom is inherent to us and to follow it is not a right nor an obligation." – FAI/FRI – Cell of Iconoclastic-Insurrectional Action.
We are open to practicing violent actions as self-defense against capitalism and solidarity with our own; we will not begin as rebels to later go submissively believing in the social peace.
This is the war that we have desired to wage against these faults, against the mental prisons and the whole prison system in the world. Against the domestication of our lives and of mother earth. The war against the civilization that tortured and murdered in the name of god and money, against those who condition us to WORK – PRODUCE – CONSUME. This is our war, the war of never being satisfied, of always going for more.
For us the word is not enough, for that we go on to ACTION.
–
STRENGTH, COMRADE TORTUGA!
SOLIDARITY WITH WALTER BOND, JUAN, MARCELO AND FREDDY!
SOLIDARITY WITH THE COMRADES R.O. CCF IN GREECE, WITH ALL WHO MAKE REAL THE SPREAD OF THE SOCIAL WAR IN CHILE, SPAIN, BOLIVIA, ITALY, MEXICO AND ALL THE WORLD!
FOR US TO BECOME MORE THAN A THREAT UPON THEIR LIVES!
–
FAI/FRI – Group of Revolutionary Cells of Informal Organization
/ Cell of Iconoclastic-Insurrectional Action
/ Individualist Fraction
/ Severino Di Giovanni Nihilist Cell
* * *
Graffiti for Tortuga: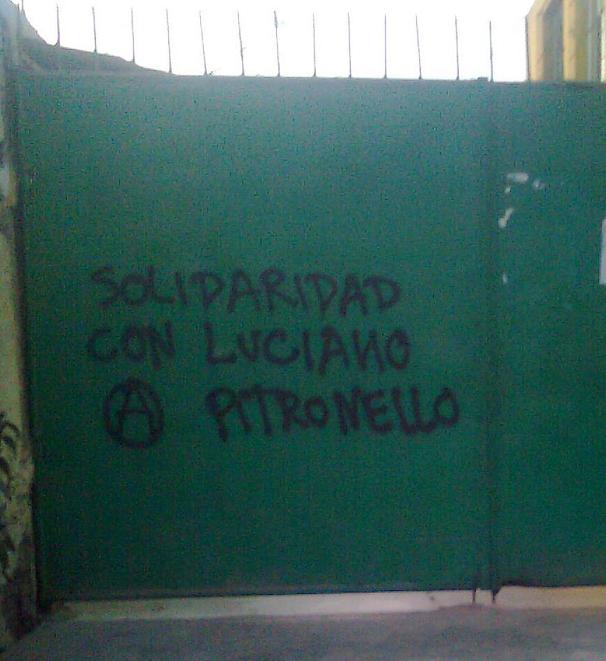 "Solidarity with Luciano Pitronello"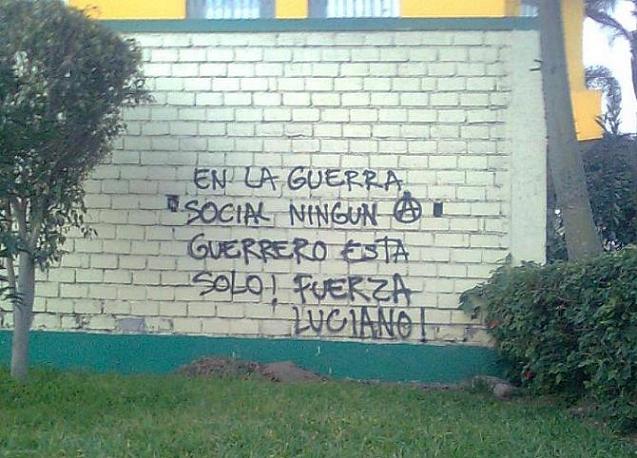 "In the social war no warrior is alone! Strength, Luciano!"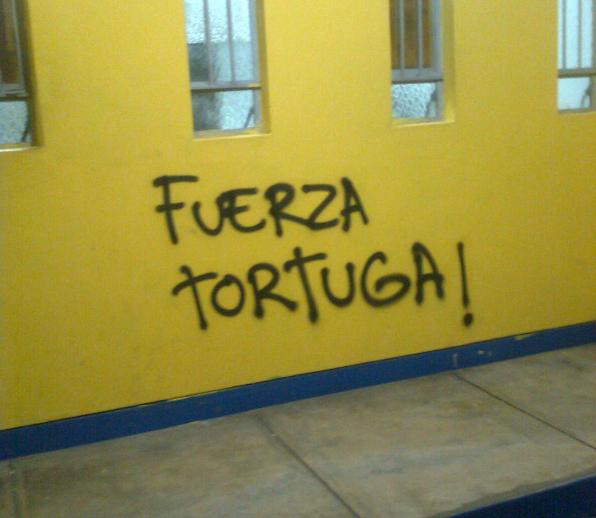 Graffiti on church:

"Against all authority / Divine or earthly"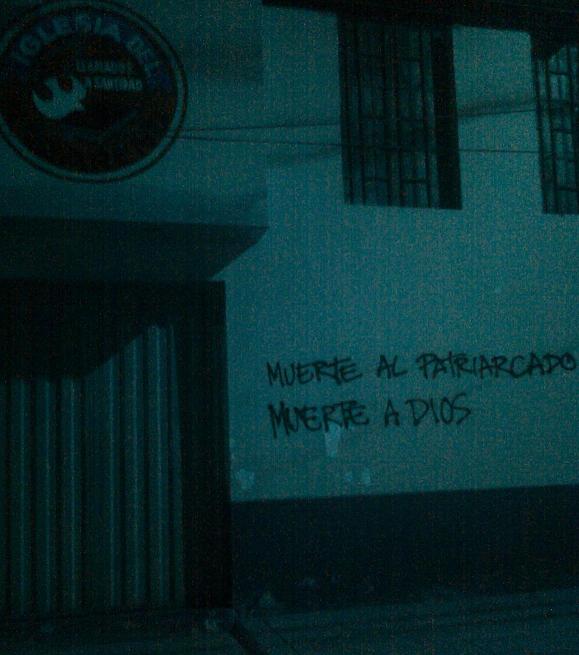 "Death to Patriarchy / Death to God"
Incendiary device: